The first university in Thailand, Chulalongkorn University,  was established in 1917.  This was done by bringing together the School of Civil Servants, the Royal Medical College and the Engineering School.  In the time since this fairly early start for the region, higher education in Thailand has grown considerably.  As of July, 2008, there were 164 higher education institutions under the supervision of the Commission on Higher Education, Ministry of Higher Education.  Of these 164 institutions, 78 were public, 67 were private and 19 were c0mmunity colleges.
Management
The Ministry of Education oversees all aspects of education from pre-school through upper secondary school and some higher education programs (e.g. teacher training and technical and vocational education). Private primary and secondary schools are managed under the Private Education Commission.
The Ministry of University Affairs (MUA) directs the administration and management of both public and private colleges and universities. The Department of Vocational Education is responsible for vocational education and training. Programs in this sector are designed to meet the needs of the job market and are offered at both the secondary and postsecondary levels.
Admission to Higher Education
Admission to an institution of higher education requires the Certificate of Secondary Education (Matayom VI). Most public universities also require applicants to take the Joint Higher Education Entrance Examination (JHEEE), which is held each year in April and administered by the MUA. Students who have successfully completed the Certificate of Vocational Education are also eligible to take the JHEEE.
Applicants are required to complete up to seven sections on the exam depending on the desired faculty. Science faculties for instance require mathematics, physics, chemistry, biology and English. Social Sciences faculties require social studies, Thai, English, other foreign languages and mathematics.
Students may apply to as many as five faculties at one or more universities of their choice.
The JHEE is a highly competitive exam. Only about 30 percent of those who take the examination succeed in securing a place at a public university. In April 1994, 134,654 students took the JHEEE. Out of that number 22,000 were admitted to public universities and 17,000 were admitted to private universities.
Some institutions hold their own entrance exams while the country's two open universities, Ramkhamhaeng Univerity and Sukhothai Thammathirat Open University, do not require applicants to take and entrance exam.
Private institutions have their own admissions process, which includes a joint entrance examination similar to the JHEEE.
School Year
The school year in Thailand is divided into two semesters. For higher education, the school year goes from June to March. It has a two or three week break between the two terms in September. The long summer break coincides with the hottest part of the year and Songkran, the traditional Thai new year celebrations.
Degree System
Most bachelor degree courses in Thailand are four years full-time attendance programs. Exceptions are pharmacy and architecture that require five years, and the doctor of dental surgery, medicine, and veterinary medicine that are six years of study programs. Master degree study generally requires either one or two years and the degree is conferred on course credits with either a thesis or a final exam. On completion of a master degree, students may apply for an admission exam to a two to five year doctoral study program. The doctorate is conferred on coursework, research and the successful submission of a dissertation.
New enrollments sorted by level of education have also continued to rise – from 321,523 in 1998 to 642,984 in academic year 2006. Below are enrollments classified by level of education in the recent period between 1998 and 2006.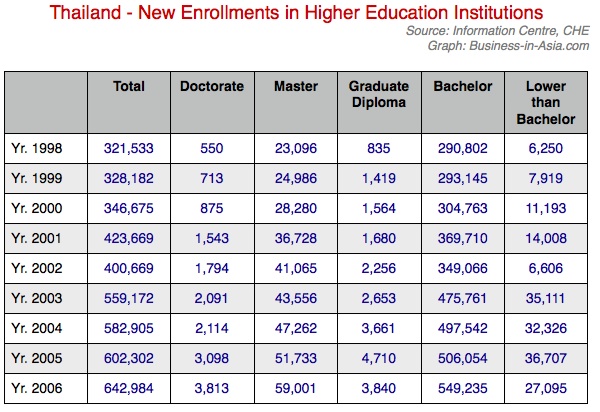 It should be noted above that the numbers of master's degrees has nearly tripled – from 23,096 in academic year 1998 to 59,001 in academic year 2006.  Doctoral students have also shown a dramatic leap from 550 students in academic year 1998 to 3,813 in academic year 2006.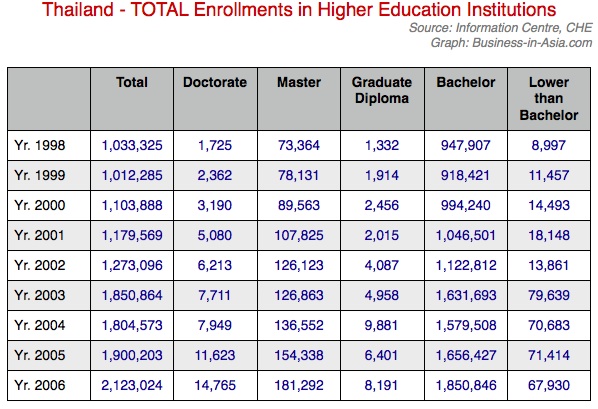 Total enrollments are also up substantially from 1,033,3256 in academic year 1998 to 2,123,024 in academic year 2006.  Further, total enrollments for bachelor's degree students rose from 947,907 in academic year 1998 to nearly double in academic year 2006 with 1,850,846.
Total enrollment has not been the only increase, the number of graduates has risen as well – from 108,903 in 1997 to 343,915 in academic year 2005.  Growth in all categories as seen in the chart has been substantial.
There has  also been increases in the number of international students studying in Thailand according to information from the Bureau of International Cooperation Strategy, Commission on Higher Education.
The number of International students by Gender and by level of education is shown in the two charts below.



Assumption University, Mahidol and Chulalongkorn University have continued to attract the majority of foreign students to Thailand.   The top ten ranking for the Institutions with the highest level of international students are listed below for the three years 2005, 2006 and 2007: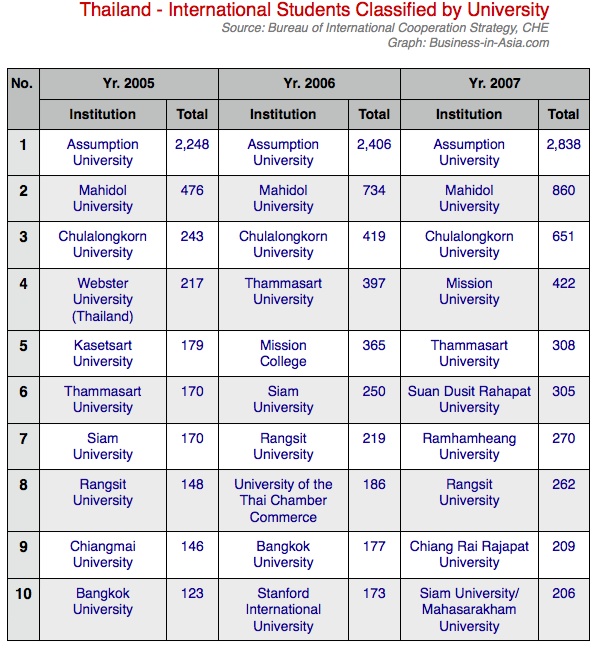 Most of the international students in Thailand come from surrounding countries.  China is has consistently sent the most students.  Please see figures below: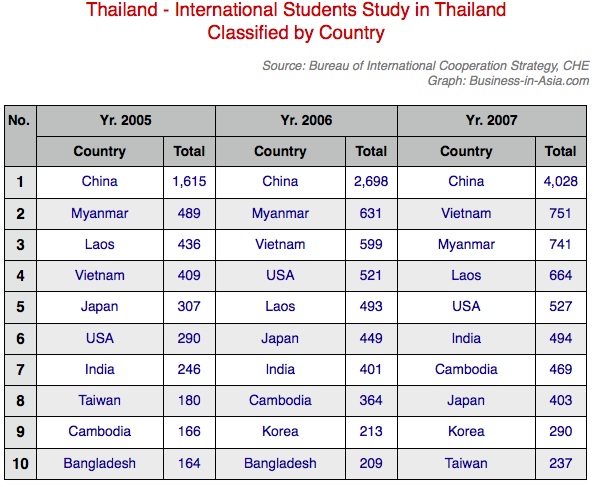 Business and business related subjects are the dominant subject of study for international students studying in Thailand.  Please see chart below: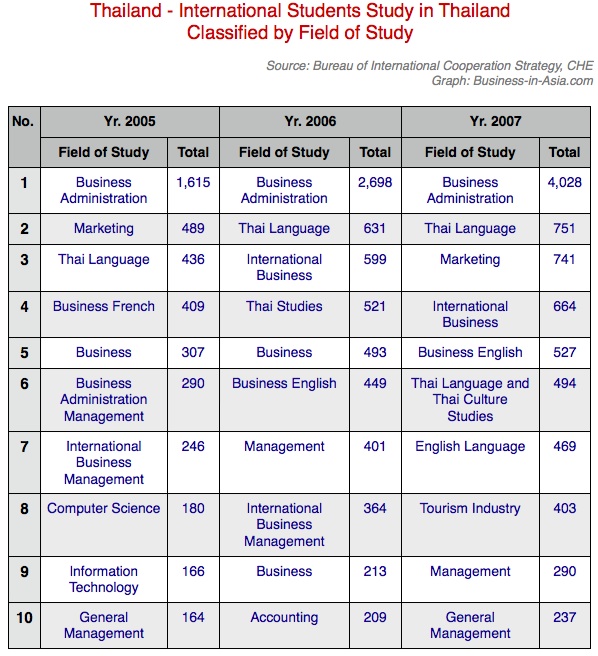 There were 6,350 Thai students studying abroad under government funded programs according to the Civil Service Commission as of July 1, 2008.  Of this total, there were 4,779 students on government scholarships, 650 officials on study leave, 513 officials on training programs and 408 on other sholarships.  In terms of destination for these studies, 24.8% studied in the U.S.; 20.3% studied in the U.K. and 9.2% studied in Japan.  Other major countries for study in order of total students were France, Germany, Australia, China, the Netherlands, Switzerland and Canada.
Major Universities
Below is a list of some of the major Universities in Thailand:

Chulalongkorn University: Founded in 1916 and with 18 faculties, three schools, three colleges and six institutes and with a total enrollment of more than 32,500 undergraduate and graduate students, Chula as it is called in short is one of Thailand's premier Universities.  In 2006, Chulalongkorn University was ranked Excellent in both academics and research by the Commission of Higher Education. It also has been top ranked Thai's university for the past 4 years by the Times Higher Education – QS World University Rankings. In 2008, it was ranked 72nd for Social Science, 86th for Technology and 108th for Life Science & Biomedicine.with a current total student enrollment of 26,381. Offers bachelor's, master's and doctoral degrees.
Thammasat University: The second oldest University in Thailand was founded in 1934.   Presently, Thammasat University has over 30,000 students (25,000 undergradutes) enrolled in 23 faculties, colleges and institutes: the faculties of Law; Commerce and Accountancy; Political Science; Economics; Journalism and Mass Communication; Liberal Arts; Social Administration; Sociology and Anthropology; Science and Technology; Engineering; Medicine; Allied Health Sciences; Public Health; Dentistry; Nursing; Architecture and Planning; Fine and Applied Arts; the Sirindhorn International Institute of Technology; the Language Institute; the College of Innovative Education; the College of Inter-disciplinary Studies; the Pridi Banomyong International College; and the Graduate Volunteer Center.
Mahidol University: Mahidol University (MU) has its origins in the first institution of higher learning in Thailand, namely the medical school founded at SIriraj Hospital in 1890. Later becoming the University of Medical Sciences in 1942, the University was renamed in 1969 by H.M. King Bhumibol Adulyadej after his own father, Prince Mahidol of Songkla, who is widely considered to be the Father of Modern Medicine and Public Health in Thailand. Since then, the university has expanded into a prestigious multi-disciplinary university, covering numerous fields of discipline including medicine, basic and applied sciences, public health, nursing, pharmacy, dentistry, engineering, environment, veterinary sciences, sport sciences, disability studies, management, hospitality industry, religious studies, social sciences, music and the arts with a current total student enrollment in excess of 30,000.
Kasetsart University: Founded in 1943 with a current total student enrollment of 27,366 and located on 7 highly dispersed campuses. KSC offers bachelor's, master's and doctoral degrees and is particularly known for programs in Agriculture, biology and science plus offering a large number of other degrees.
Silpakorn University: Founded in 1943 with a current total student enrollment of 7,339. Offers bachelor's, master's and doctoral degrees.  Well known in Thailand for programs in the arts.
King Mongkut Institute of Technology: King Mongkut's Institute of Technology Ladkrabang (KMITL) is located in Lat Krabang (approximately 30 kilometres east of the center of Bangkok), and is a university with seven faculties: engineering, architecture, agricultural technology, science, industrial education, agricultural industry, and information technology. KMITL has been recognized as one of the top science and technology universities in Thailand.  Three campuses established in 1959, 1960 and 1971. Total student enrollment is 34,912. Offers bachelor's, master's and doctoral degrees.
Chiang Mai University:  Since opening in 1964, with the three founding Faculties of Science, Social Sciences, and Humanities, CMU as it is called has continued to grow in terms of premises, the range of disciplines offered, and student enrollment. Today, CMU has seventeen Faculties with 107 individual departments, and a Graduate School. CMU currently offers a total of 253 programs: 3 Certificate Programs, 87 undergraduate programs and 163 postgraduate and graduate diploma programs, to more than twenty-five thousand students. In addition, two international Bachelors program and 18 international Masters and Doctoral programs, taught in English language, are presently being offered to international students by Social Sciences, Health Sciences, and Science and Technology faculties.
Ramkamheng University:  Founded in  1971 and is the largest open University in the country.   At present, Ramkhamhaeng University offers Bachelor's Degree Programs, Master's Degree Programs, Ph. D. Programs, International Programs and Pre-degree Programs in 10 Faculties and the Graduate School. In addition, the university also provides a wide range of excellent academic and administrative support facilities, total of 18 Institutes/Offices /Centers. The total number of students enrolled at Ramkhamhaeng University is approximately 430,000 each year, consisting of nearly 400,000 undergraduate and 35,000 graduate students.
Assumption University is the follow-on organization from Assumption Commercial College which in 1969 became an autonomous higher education institution under the name of Assumption School of Business.  In 1972, with the approval of the Ministry of Education, it was officially established as Assumption Business Administration College or ABAC. In May 1975, it was accredited by the Ministry of University Affairs. In 1990, it was granted new status as "Assumption University" by the Ministry of University Affairs.
The University is a non-profit institution administered by the Brothers of St. Gabriel, a worldwide Catholic religious order, founded in France in 1705 by St. Louis Marie De Montfort, devoted to education and philanthropic activities. The congregation has been operating many educational institutions in Thailand since 1901.  Assumption University is noted in Thailand for attracting large numbers of foreign students from countries including India, China, Myanmar, Pakistan, Bangladesh, Russia and other Asian countries. Students from China make up the largest number of foreign students, with up to 6,000 enrolled. Approximately 1,000 Indian students also attend the university.   Assumption University is also the first international university in Thailand and currently has over 16,000 undergraduate students.

Khon Kaen University: Founded in 1964, Khon Kaen University (KKU) is the largest education and learning center in the Northeast of Thailand.  KKU currently hosts more than 29,000 students, learning within 17 faculties, covering almost every discipline. A satellite campus is located in Nong Khai..
National Institute of Development Administration: Founded in 1966 and currently has 6,225 students. Offers masters and doctoral degrees only.
Prince of Songkla University: Prince of Songkla University was the first university in Southern Thailand  and was established in 1967.  and currently enrolls 15,033 students. Offers only bachelor's and master's degrees.  The university consists of four campuses and one education service area. In 1968, the first permanent campus was established in  Pattani. The campus in Hat Yai was opened in 1971 and is now the main campus, having more than 50% of the university's students. Other campuses were established in Phuket (1977) and Surat Thani (1990). Additionally, Trang education service area was added in 1991. As of 2007, the university offered 295 educational programs to its 34,000 students, including 18 international programs and 3 foreign language programs.
Srinakharinwirot University: Formerly a teacher training school, upgraded to a university in 1974, and currently enrolls 13,452 students. Offers bachelor's, master's and doctoral degrees.
Burapha University:   Burapha University is a public university located in Bangsaen, Chonburi, about 100 km. from Bangkok, in the Eastern Seaboard Area of Thailand. The campus covers an area of 256 acres. It was first established as the Bangsaen College of Education in 1955-the first tertiary education institution ever established outside of Bangkok- to produce graduates in teacher education. In 1984, when the Prasarnmitr College of Education in Bangkok was upgraded to university level and named Srinakharinwirot University, Bangsaen College of Education was included as a branch campus and started to offer several other degrees besides teacher education. In 1990, due to the need for more college-trained personnel to implementation the Government'sEastern Seaboard Development Project to industrialize the area, the Bangsaen  Campus was upgraded to full university level and renamed Burapha University, which means "University of the East".  Currently Burapha hosts approximately 36,245 students (as of 2009), aided by 992 teaching staff and 300 general employees. The university offers degrees in more than fifty programs of study, including 75 master's programs, three Ed. D programs, and twenty Ph. D programs.
Private universities in Thailand have been increasing quickly as noted earlier Private universities come under the authority of the Private Higher Education Institutions Division of the MUA, which must approve and accredit new institutions. The largest private university is Bangkok University with 25,000 students.
The Rajamangala Institute of Technology offers bachelor programs in technology and technical fields.
The Rajabhat Institutes, formerly teacher training colleges, and located in provinces throughout Thailand, provide training in practical fields such as tourism management and business administration.
The Asian Institute of Technology (AIT), formerly the SEATO Graduate School of Engineering, is the only university that is not supervised by the Ministry of University Affairs. AIT is a largely autonomous institution established under its own charter. Only 20 percent of its funding is provided by the Thai government and recently their has been some questioning of the continued need for AIT. AIT enrolls students throughout the Asia-Pacific region and boasts an international faculty.
---
About the Author:
Christopher W. Runckel, a former senior US diplomat who served in many counties in Asia, is a graduate of the University of Oregon and Lewis and Clark Law School. He served as Deputy General Counsel of President Gerald Ford's Presidential Clemency Board. Mr. Runckel is the principal and founder of Runckel & Associates, a Portland, Oregon based consulting company that assists businesses expand business opportunities in Asia. (www.business-in-asia.com)
Until April of 1999, Mr. Runckel was Minister-Counselor of the US Embassy in Beijing, China. Mr. Runckel lived and worked in Thailand for over six years. He was the first permanently assigned U.S. diplomat to return to Vietnam after the Vietnam War. In 1997, he was awarded the U.S. Department of States highest award for service, the Distinguished Honor Award, for his contribution to improving U.S.-Vietnam relations. Mr. Runckel is one of only two non-Ambassadors to receive this award in the 200-year history of the U.S. diplomatic service.
source: by Christopher Runckel, President of Runckel & Associates (www.Business-in-Asia.com)