BANGKOK NEW YEARS EVE 2020
The capital city of Thailand, and one of the most populous cities in the world, Bangkok holds a serious new years eve party every year, and 2020 is sure to be no exception with a range of events to cater for all tastes, including river cruises, hotels parties, bar and restaurant theme nights all leading up to the midnight countdown and the associated fireworks display which will light up the skies for miles around.
The focus of much of the celebratory highlights is the Central World shopping plaza, which boasts a reputation for currently being the 3rd largest in the whole world! In front of it is the Central World Square, where the crowds will gather from early evening to enjoy the building atmosphere leading up to the explosive fireworks at midnight. The event includes an open air beer garden, a large screen which shows the countdown from other places in the world during the buildup, so you won't miss out on seeing the spectacular Central World Square Fireworks among others.
เตรียมพร้อมกันหรือยัง กับงานเอ็นเตอร์เทนเมนต์เคาท์ดาวน์ระดับโลกที่ดีที่สุด ที่ศูนย์การค้าเซ็นทรัลเวิลด์ ⭐⭐ โดยมีกองทัพศิลปินมาร่วมเฉลิมฉลองกันมากมาย ให้คุณได้เอ็นจอยในคืนข้ามปีกันแบบไม่รู้จบ พร้อม Exclusive Fan Zone ที่คุณจะได้ใกล้ชิดติดขอบเวที หรือโซนอื่นที่เข้าฟรี และเอ็นจอยไม่แพ้กัน เพราะเวทีปีนี้ ยาวกว่า 220 เมตร ซึ่งยาวที่สุดใน Southeast Asia !!
❤️ รายละเอียด Exclusive Fan Zone
คลิกอ่านรายละเอียดและเงื่อนไขได้ที่ http://bit.ly/36lS8PN
📍 ลานด้านหน้าศูนย์การค้าเซ็นทรัลเวิลด์
วันที่ 31 ธันวาคม 2562
#centralwOrld #wOrldOfhappiness
#AISBangkokCountdown2020
BANGKOK NEW YEARS EVE DINNER CRUISE AT THE CHAO PHRAYA RIVER

Ring in the new year with a festive New Year's Eve Dinner Cruise along the Chao Phraya River! The unforgettable evening begins with a welcome drink on board and features a buffet feast of Thai and international cuisine.
Soak in the sights of Bangkok by night. Pass by Wat Arun, the Grand Palace, Wat Phra Kaew and the Rama VIII Bridge. Relax as you watch a Thai classical dance and a cabaret show while cruising the River of Kings. Enjoy some games and special prizes before the countdown to 2020 begins.
At midnight, countdown to the new year and admire the stunning views of Bangkok's riverside skyline and see some great fireworks over Chao Phraya River.
ICONSIAM – NEW YEAR'S EVE 2020
จัดเต็มความบันเทิง ในงาน Amazing Thailand Countdown 2020
พบกับ ณเดชน์ คูกิมิยะ, TRINITY, จินตหรา พูนลาภ, B5, นนท์ ธนนท์, ตู่ ภพธร, Twopee Southside, ต้น ธนษิต, บิ๊นท์ สิรีธร Miss International 2019, ไอซ์ ธมลวรรณ, เป็กกี้ ศรีธัญญา, Chilling Sunday
31 ธ.ค. 62 ณ ริเวอร์ พาร์ค ไอคอนสยาม ตั้งแต่ 16.40 น. เป็นต้นไป
Asiatique The Riverfront (เอเชียทีค เดอะ ริเวอร์ฟร้อนท์)

New Year's Eve gives all hipsters chances to strut their stuff. Located on the Chao Phraya River bank, entertainment choices are eclectic-even quirky. And when the clock strikes midnight, savvy revelers know that it's the best vantage point for watching iconic fireworks burst into the midnight sky.
Asiatique is designed to meet the needs of singles, groups and entire families. There's something to do for everyone while waiting for midnight: Bars; music venues; boutiques; restaurants; classic Thai puppet shows plus the ever-popular Calypso Ladyboy Cabaret. It's a one-stop party on a very grand scale!
THE ROOFTOPS OF BANGKOK
The rooftop bars and restaurants in Bangkok are pretty magical on an ordinary night of the year, but come New Year's Eve they add an extra dose of sparkle and magic to their lofty surroundings. New rooftops open every year, and as competition increases, the events become more impressive. Let's see which rooftop bar is the right one for you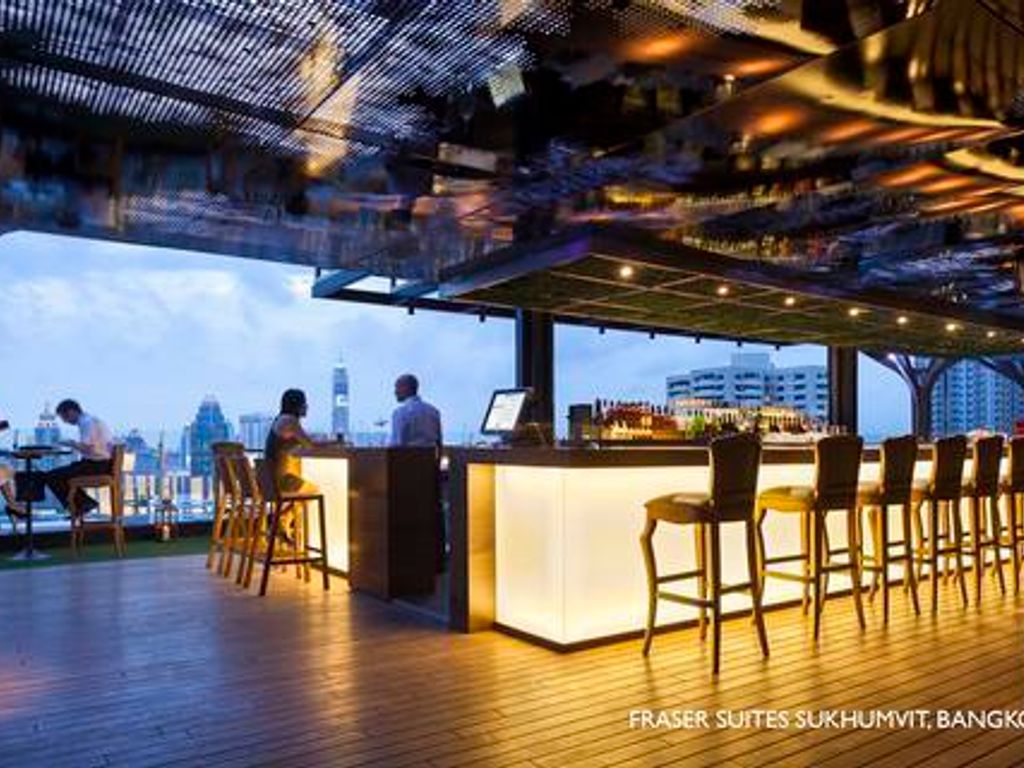 Attitude at Avani Hotel Address: Avani Hotel, 257 Charoennakorn Road, Thonburi
CRU Rooftop Champagne Bar Address: Centara Grand at CentralWorld, 999/99 Rama 1 Road, Pathumwan
Octave Rooftop Bar Address: Bangkok Marriott Hotel Sukhumvit, 2 Sukhumvit Soi 57, Bangkok
Park Society Address: Sofitel So Bangkok (on Sathorn Road), 2 North Sathorn Road, Bangrak
Cielo Rooftop Skybar Address: 46 Floor LeLuk Condominium, B Tower Sukhumvit Road, Phra Khanong
Sky Bar – lebua at State Tower Address: Lebua at State Tower, 1055 Silom Road, Bangrak
Three Sixty – Millennium Hilton Bangkok Address: Millennium Hilton Bangkok, 32nd floor, 123 Charoennakorn Road, Klongsan
Vertigo – Banyan Tree Bangkok Address: Banyan Tree Bangkok, 21/100 South Sathon Road
NIGHTLIFE IN BANGKOK
Bangkok's nightlife is legendary and for good reason. The city is buzzing seven nights a week, with both world mega-clubs and underground haunts standing side by side, attracting revelers from every corner of the planet. You can find every niche musical movement in Bangkok – from the new wave of EDM flooding the city, to classic hip hop beats and even drum 'n' bass. It's this sheer choice, along with fun-loving crowds and the classic easygoing Thai charm that makes Bangkok the premier clubbing destination in Asia, and one of the most boisterous party cities in the world.
Beam Location: 72 Courtyard Mall, Thonglor (Sukhumvit Soi 55)
Ce La Vi Location: 39th and 40th floors, Sathorn Square Complex, 98 North Sathorn Road
GLOW Location: Sukhumvit 23
Insanity Address: Sukhumvit Soi 11
Levels Club & Lounge Location: Sukhumvit Soi 11
Live RCA Location: RCA
Onyx Location: Royal City Avenue (RCA), Block A, close to the Rama 9 Road entrance.
Route 66 Location: RCA
Sing Sing Theater Location: Sukhumvit Soi 45
STREET PARTY AT KHAO SAN ROAD
Whatever the occasion, Khao San Road doesn't disappoint party people. There's live music, street dancing, drinks, and a lot to do to make sure the new year is welcomed in the best spirit. Here, the celebration involves meeting young strangers from all over the world and partying till the sun appears. Brimming with backpackers, street bars, and restaurants – this is your to-be-place if a crowd doesn't bother you.
Chinatown, Bangkok
Who says you have to wait until 25 January 2020 to celebrate Chinese New Year when you can get a head start on the night of 31st December 2019? By day, this beautifully eclectic community is abuzz with shoppers eager to snag bargains, trade gold, visit temples, market stalls and indulge in street-side eateries.
Once the sun goes down and lights go on, who needs fireworks? Where to go to get your New Year's Eve bar fix? El Chiringuito; Soy Sauce Factory; Teens of Thailand; Tep Bar and Soul Bar. Called the 5 coolest drinking holes in Chinatown, you can audition all of these places and revisit the scene in January for the lunar New Year celebration.